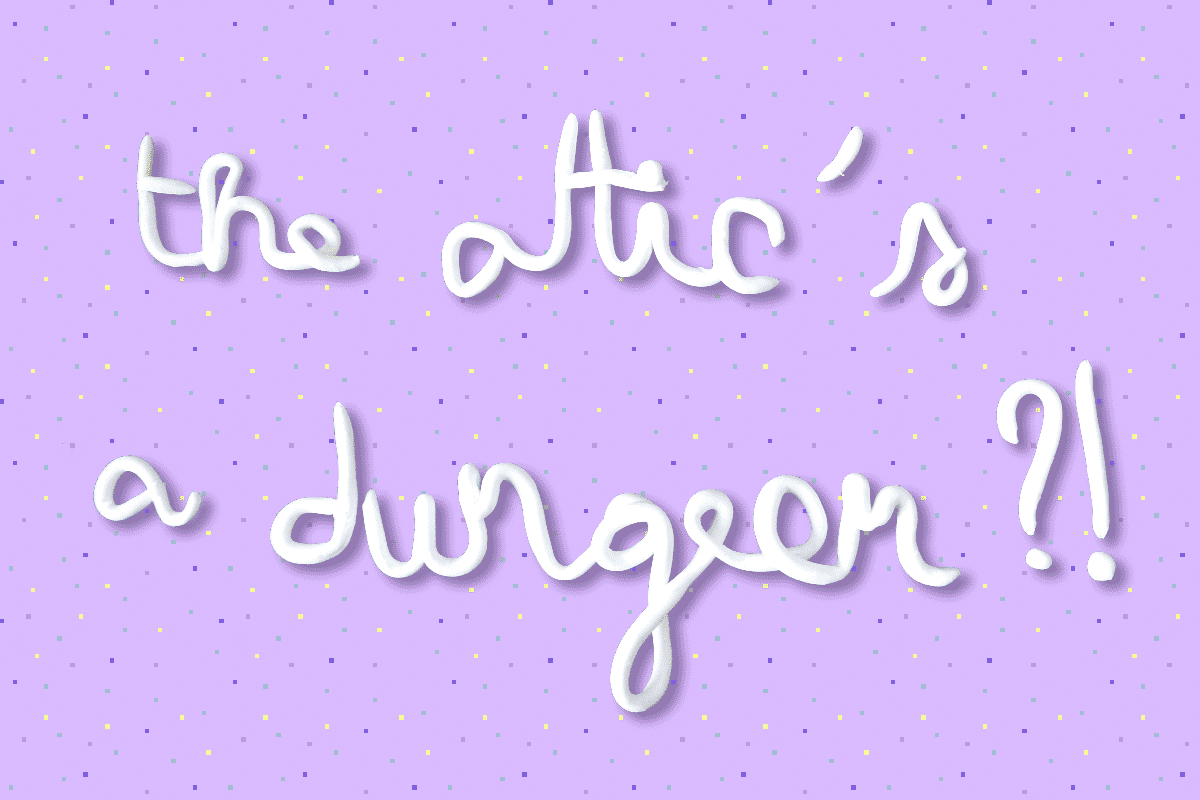 The Attic's a Dungeon ?!
A downloadable game for Windows and macOS
Beware adventurers, by entering the attic, you may expose yourself to dangerous monsters. You may have thought that finding the hidden treasure of captain Lee would be an easy task. Well, let's see how you will manage to survive theses monsters while solving the captain's riddles.



El Bigote

He may look dumb, but his first hit sure hurts




Mr Walrus

Don't be surprised by his quick move


Tenia

This one is really strong, did I mention his draining ability ?


Mr Avocado

His long distance attack is gonna make you crazy


Handy

Handy doesn't like to lose, and he has a quick rotation skill




Mr Incredible

Don't make him quit his beloved spot, or he will make you regret it




Mr Tongue

Mr Tongue is very talented, you have to experience his multi target move


Rollmops

Yes, it is a surprising way to move, but it's also super efficient


Psychornelius

This one has psychic powers, as you may guess


Cyclopor

Watch your step, or this little one will surprise you from behind

The Attic's a Dungeon was released as an entry for the ROPE gamejam (Ressurect an Old Project Etc). With the participation of Pierre Bernon, Julie Chane-Hive, Sofiane Djabou and Colin Thil.
twitter | facebook | website | press contact | more games


| | |
| --- | --- |
| Status | Released |
| Platforms | Windows, macOS |
| Rating | |
| Author | Martian's Parlor Entertainment |
| Genre | Adventure |
| Tags | 3D, Colorful, Dungeon Crawler, Experimental, Point & Click, Procedural Generation, Team-Based, Turn-based, weird |
| Average session | About a half-hour |
| Languages | English |
| Inputs | Keyboard, Mouse |
| Accessibility | Subtitles |
| Multiplayer | Local multiplayer |
| Player count | 1 - 4 |
Download
Click download now to get access to the following files:
WIN (Windows 7 and later)
89 MB
MAC (OS X 10.8.5 or later)
106 MB
SOURCE (Processing)
46 MB
Comments
Log in with itch.io to leave a comment.
This was super artistic, had a blast once I learned how it worked. Nice job!
The monsters are so cute and the animation is really something! :D Had fun with this one, kept the challenge until the very end.
SPOILERS HERE KINDA
I wonder if the wall with a "?" in the last floor means something. Also, it's a shame there isn't a final boss as a climax. Kind of disappointing. :c
Hi, thanks for the feedback. We're very glad you make it through !
We actually did a last level but we remove it just before the end of the jam because it wasn't interesting enough to us.
Here is the answer of your "?" wall question (21:18) :

The stop-motion clay art, the maze, the riddles? You've combined them all in an amazing way! I enjoyed the game so much! Took me a few hours to find the treasure but I finally did it!
The interrogations definitely helped me and the avocado definitely scared me. Haha!
"I'm easily scared -.-''
Love love LOVE the claymation/artstyle! So much character!!!
You guys are crazy. And I mean that in the nicest possible way!
When I first started playing this I honestly had no idea what I was doing, but as I trawled backwards and forwards, slowly figuring out each thing, I was taken aback at the amount of thought that went into this.
Every item has a unique use, every monster is kooky and delightful, and every time you solve a puzzle you get that lovely warm feeling, like when you finish an extra-hard sudoku.
I loved the use of clay as well, and while it's not the most refined claymation it's still a darn impressive feat and I know you will all improve as time goes on.
Keep up the amazing work, this was a lovely surprising treat! =)
Thank you for the feedback and the play-through. We plan to do other claymation games later, hope you'll see our progress ! Until then, we did this new thing that may interest you.

Keep doing wonderful videos about indie games !

I failed and didn't find the treasure and then I rage quit. In that order.

I didn't have any issues, had fun and found the treasure. :)

PS For anyone watching, please consider subscribing for a copious amounts of indie games.
I keep hitting install, and it keeps stopping and not working :(
Hi, which operating system are you running on ?
I think the problem is now fixed. Please tell me if not. Thanks again for letting me know !

It still isn't working for some reason. It downloads fine, but when I click install, it's still stopping after about half a second.

To play you need to extract the zip file and run the .exe file. If you don't manage to unzip the file, maybe try another unziper.
Someone told ma about a similar issue and had to use 7-zip.
Hi, I tried another file compression. I hope it will work now. Sorry again for this issue !
Hi there! I'm on Windows 10 and trying to install the game within the itch.io launcher, and I'm having the same issue the other person was having. Sorry such a belated reply, but I've just discovered this game via an old post on PCGamer's Free Game Of The Week. Looks interesting, and hope I get to play it! :)
Hi, sorry about this issue.
Did you try to download the game without the itch.io launcher ?
I will try to make a new build this week, I'll tell you when it will be done !
Sorry again, you can still play our browser games in the meantime ...

HI! I wasn't able to download and open this game because my computer is telling me the Mac file is damaged. Is there anything I can do?
Hi ! Sorry about that and thank you for the report.
Someone else pointed me that issue, I think I fixed it this morning.
If you have time, please tell me if it works for you.